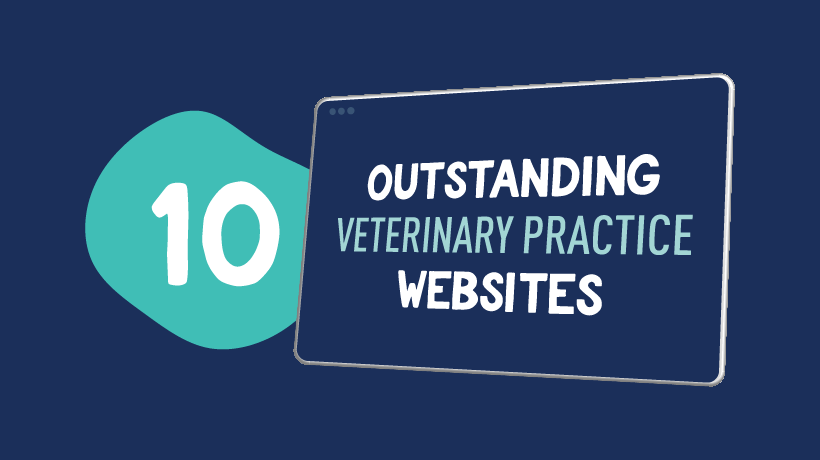 The 10 Best Veterinary Hospital Websites in 2022
On the surface, it might seem like a veterinary practice website would be a pretty simple thing to get right…right? List the contact info, the services, slap on a few aww-inducing stock photos of puppies and kittens and boom! Mission accomplished.
Of course, creating a truly effective, appealing website that accurately conveys your practice mission and brand is nowhere near that easy. Veterinary medicine is a very specific industry requiring more than just click-by fur appeal.
Since iVET360 builds hundreds of veterinary websites every year, we thought we'd take a look and see which practices are doing it best, and what makes them great. If you're considering renovating your hospital's online home, this is a good place to start for ideas and inspiration—like HGTV for your website, without the sledgehammers.
All of the websites below have it going on in terms of look, content, and function, and share important features like prevalent and frequent calls to action and easy navigation. They also "tell a story" about that practices' culture and personality.
In addition to 10 outstanding veterinary practice websites, you'll also find insights from our own in-house creative team of designers, developers, marketing managers, and copywriters to help you understand what you're seeing—and sometimes not seeing—that makes these sites stand out.
---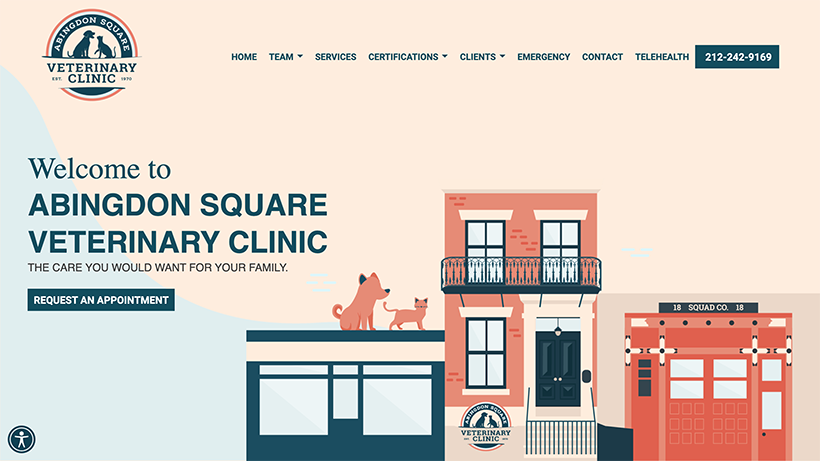 This site is far and away the favorite of most of our creative team, in great part due to the custom illustrations. According to iVET360 Designer Keri Bonn, this makes it very different from other veterinary websites. "Abingdon's site is very graphic-heavy with not a lot of imagery, giving it a modern twist. They're also not afraid to use empty space to give your eyes time to take in all the icons."
iVET360 Developer Brandon Kudo agrees that this site is also custom from a build perspective, in that subpages were created to provide clients with the best possible user experience.
Content is important to this practice owner as well, so the copy was written to appeal to the urban and somewhat specific demographic of NYC's West Village.
---
Video players are all the rage on websites these days, but they can be distracting for users and cause slow load times. With this site, the video is entertaining, fresh, and relevant to pet owners living near the New England coast. Also, in order to balance the very eye-catching imagery and video elements, the rest of the site is designed simply with clean lines to avoid appearing too "busy".
According to iVET360 Marketing Manager Jess Strohm, this site is also a great example of one that was tweaked to look bespoke but relied on templated items because the client's priority was to launch ASAP. "We were able to plug & play the logo and color palette and have a seamless-looking site, but still customized a few elements such as the callout sections."
---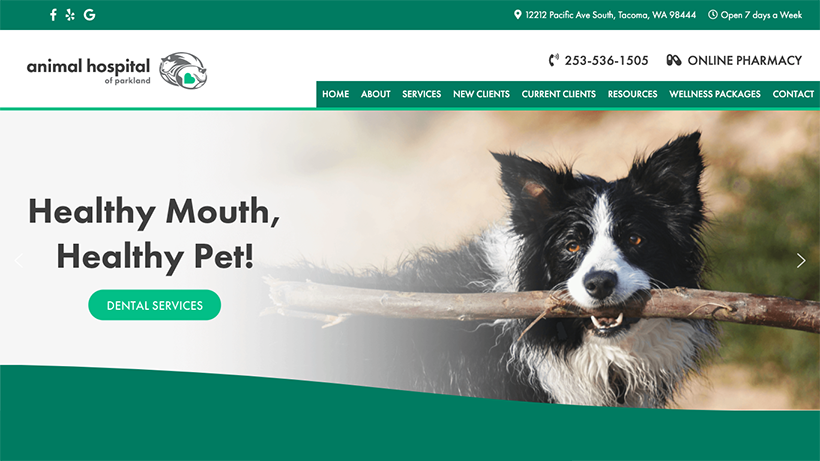 This practice is part of the Cara Veterinary group and so their design is on-brand with their sister hospitals throughout the Pacific Northwest. This new site modernizes the practice in look and feel—but most importantly, in user experience. The sticky menu follows the user as they scroll down every page, and a link to the online pharmacy—a primary reason users visit this site—is featured prominently.
"The highlight of this one is that it's a highly navigable, very smooth site due to its clean, no-frills branding and easy-to-find links," says iVET360 Senior Designer Tom Dorwaldt.
---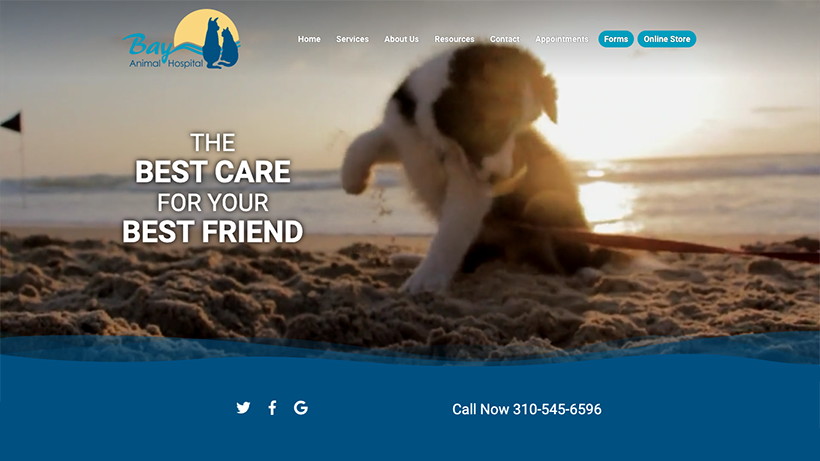 Like the hospital it was built for, this site is clean and modern—but it also has some unique elements that make it a cut above.
"What I like about this site is the feeling of motion given by the wave animations that happen on scroll as well as the wave graphics, so it's not just a bunch of blocks laid on top of each other," says Brendan Shea, the former iVET360 developer who worked on this site.
Like the other sites on our list, contact information and details about Bay Animal Hospital's services are very easy to find for pet parents who use the site.
---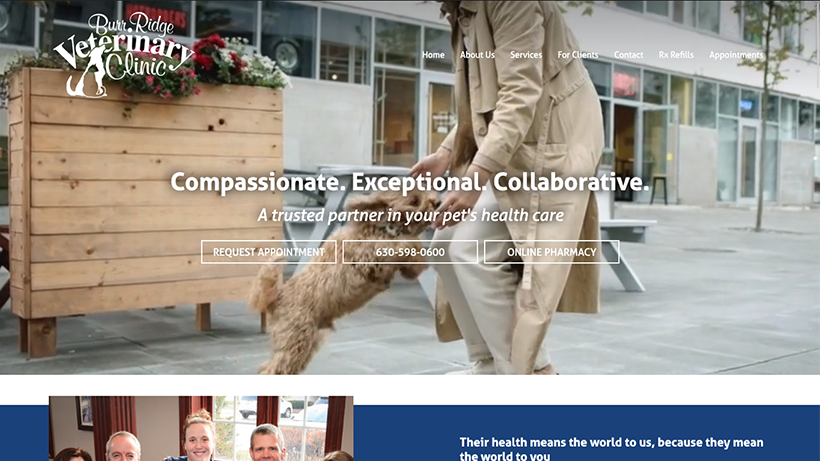 In addition to giving your clients basic contact information and details about your policies and services, it should also give them a clear sense of your hospital or clinic's personality. Burr Ridge Veterinary understands that, and it shows.
"This site really tells a story," agrees Bonn. "The site is clean and contemporary but has wood textures to make it feel warm and homey."
The hospital team is also featured in smiling group photographs on the home page for another welcoming touch.
---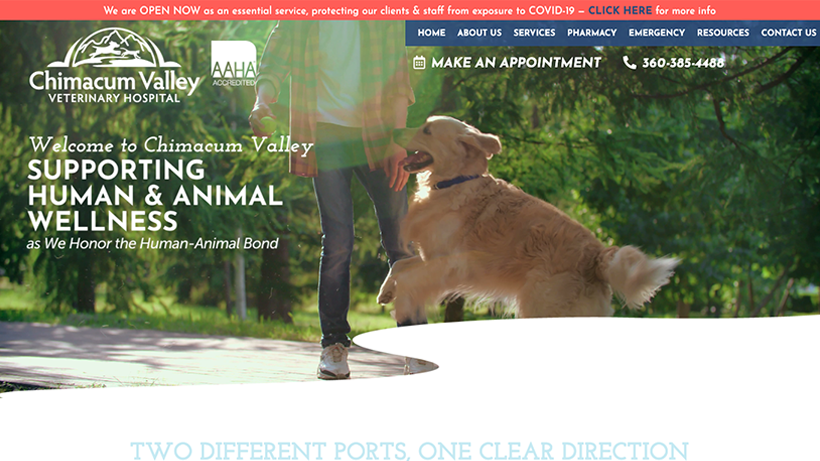 Our entire creative team agrees that this site really reflects the location of the practice, which is surrounded by forests and water. There's a softness to the site and the color palette, and visual elements guide the user easily down the page without being overdone.
As one of our designers put it: "I get a feeling like the hospital cares about my pet without approaching Hallmark levels of cheese."
---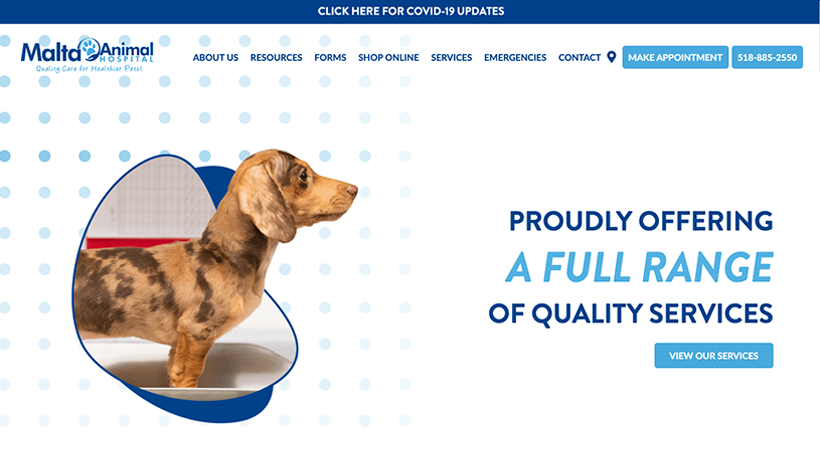 Custom photography and the functionality of the wireframe used to build this site are what really set this practice apart from other veterinary websites.
"It has side-scrolling features and is really made to be intuitive and functional on mobile without sacrificing the same functions on desktop," says iVET360 Marketing Manager Siera Bruggeman.
Dorwalt agrees that custom photography and the atypical layout are winners. "The graphic-heavy design connects the brand to the beautiful photography and the sticky menu drives users to utilize the practice's PetDesk app to make appointments from anywhere on the site."
---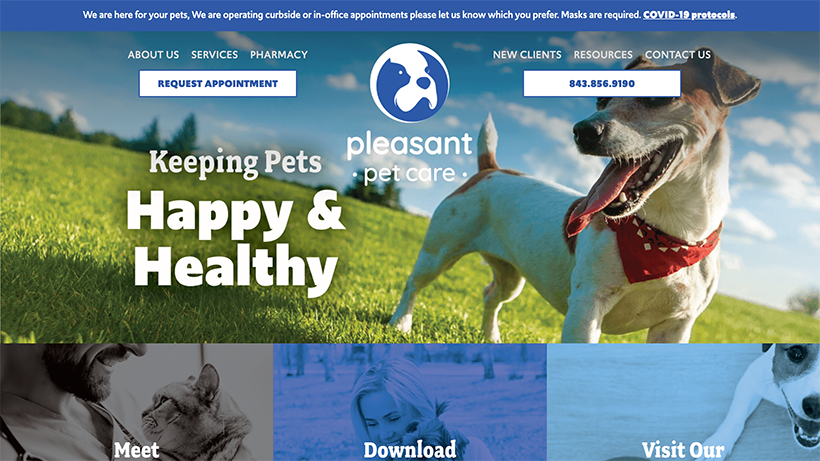 Loosely based on an existing template, this site turned into a build tailored to meet the specific needs of the practice. "It's a great example of how creative our team can get with a theme when clients give us free rein and are happy waiting longer for a site," says Shea.
Other unique touches: animations are specially coded for the site, it uses a mix of full-width images with no backgrounds, and completely custom subpages that utilize icons instead of images for the service callouts.
---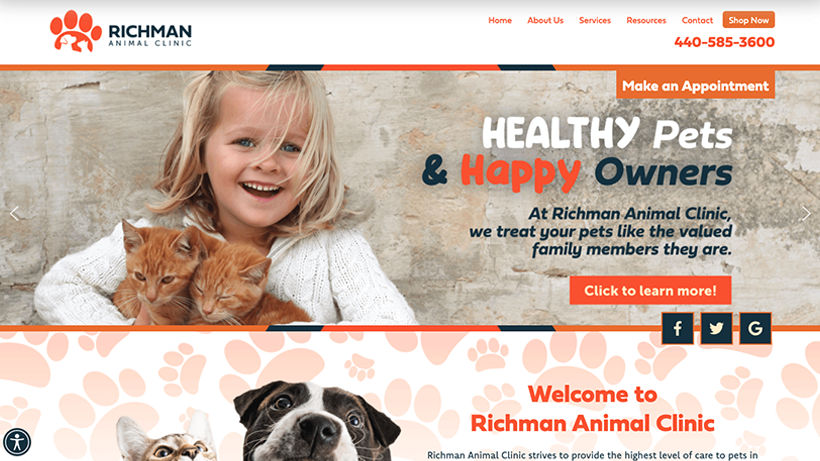 Like bright colors? Then this is a site you'll want to emulate, as it successfully utilizes a bold color palette without burning your retinas. It's consistent and has a fun use of pattern and full-width imagery.
This site also is distinctly different when it comes to content. This practice wants its website to be informative and educational, so the service pages contain much more than just a brief overview of that subject. However, they're written in a style that's very accessible to pet owners.
---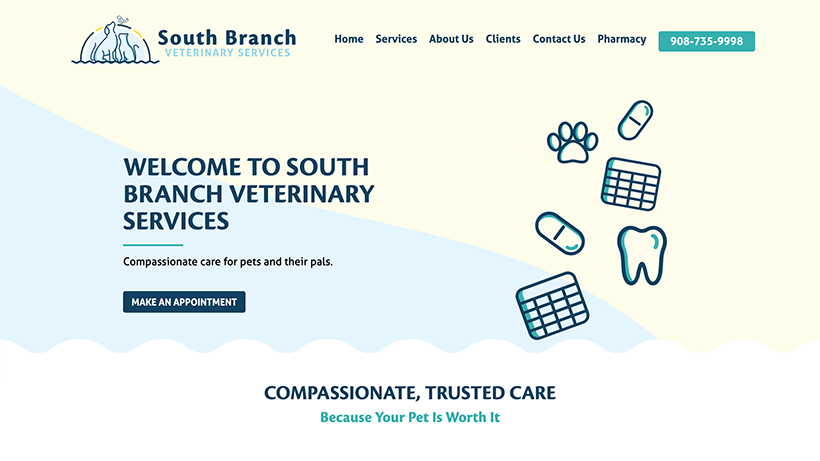 This New Jersey practice wanted a site that was similar to Abingdon Square Veterinary Clinic, and so it features the same style of custom illustrations. The color palette here is easy on the eye, but still unique enough to make it stand out from many other practices that seem to gravitate towards more primary colors.
---
As with all these sites, functionality is key and so the most important elements are quick and easy to find. Due to the lack of heavy imagery, the home page loads super fast and looks especially good on mobile.
The purpose of a practice website is to inform and turn pet owners into clients, and because we are data nerds here at iVET360, we have the stats to prove they do that. We've accomplished this by blending great design with high functionality and a clear call to action.
One final note: in exchange for their cooperation in creating this article, our creative team demanded we include the caveat that custom sites like this often require a lot of extra coding and design work, which means they also may take extra time to build. In other words: you get what you wait for.
---
Does your practice need a new website? While iVET360 specializes in full digital marketing services, we also offer an affordable website-only option—with no strings and no long-term contracts.
Click Here & Learn More