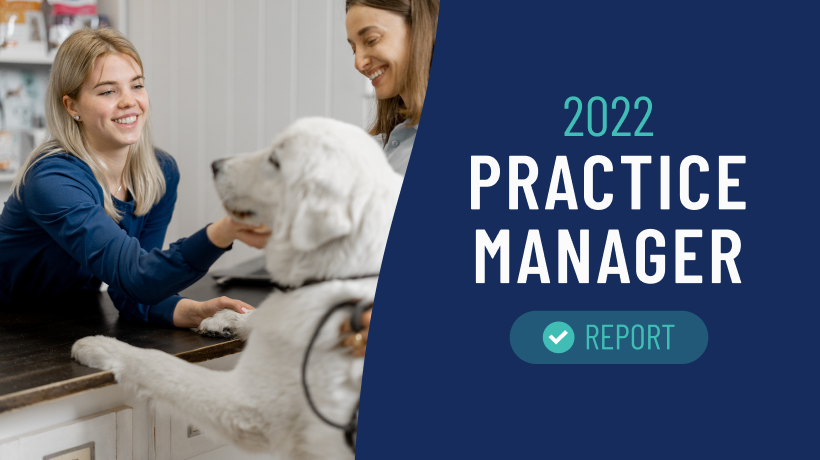 iVET360 releases 2022 Practice Manager Report, a deep dive inside the nation's veterinary practices
Portland, OR—iVET360 has released the 2022 Practice Manager Report (PMR), a comprehensive look at the challenges, processes, and progress of the nation's veterinary practices. The largest report of this type in the industry, it reveals the true state of the veterinary business beyond just revenue numbers and is now available to download for free.
This report is based on a survey done by iVET360 in June, which took the pulse of 763 veterinary professionals in 48 states. Unlike last year, this year's survey and report also included responses from practice owners who offer a second, and sometimes contrasting, point of view.
While many of the pain points remain the same as last year—namely recruiting and staff retention—this year's report also includes important information about the impact of limited capacity and increased client load, which have been exacerbated by the challenges of an ongoing doctor and technician shortage.
As a result, veterinary practice managers are being spread thinner than ever, according to Tamisha Cronick, iVET360's Director of HR & Training.
"From the survey results and comments, we were able to see how chronic understaffing is negatively affecting these practice leaders who are often underpaid for the level of responsibility they carry," she says. "While we can't magically create more veterinary professionals to fill the gaps, our report does offer insights and solutions to help practices manage these problems more effectively on a daily basis."
Given the demands of working in the veterinary industry these days, iVET360 is extremely grateful to the practice managers, owners, and veterinarians who took the time to give us their valuable feedback about hospital life. We hope the resulting report is of help to everyone who earns their living in this field devoted to the health and welfare of our nation's pets.