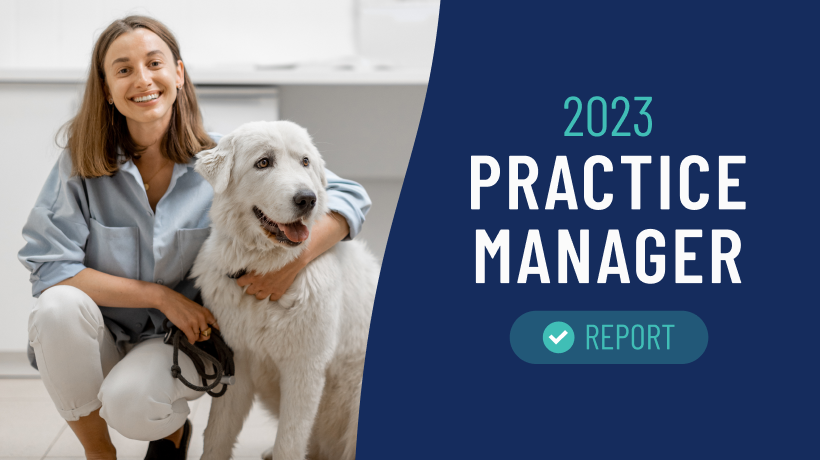 iVET360 Releases 2023 Practice Manager Report Free to Veterinary Practices
Portland, OR— iVET360 has released the highly anticipated 2023 Practice Manager Report (PMR), offering an unprecedented inside look at the challenges shaping veterinary practices nationwide today. As the largest report of its kind, this year's PMR goes beyond financials to reveal the true state of the veterinary business. Download it now at no cost.
With insights drawn from iVET360's practice manager survey (now in its third year with thousands of responses) and perspectives from practice owners, this report provides an invaluable pulse on those at the heart of these practices. Key findings over multiple years reveal a consistent theme: Practice managers increasingly bear the brunt of clinical floor duties—far more than is feasible to run their practices effectively. Recruiting and retention remain persistent challenges, regardless of revenue or region.
The 2023 findings were giving us déjà vu, while many of the same problems persisted:
Over 35% of PMs say they spend most of their time filling in as receptionist, vet tech, or other clinical roles instead of focusing on strategic management. This alarming statistic indicates practice managers are overwhelmed with day-to-day tasks and are lacking support to delegate efficiently.
94% of managers are attempting to develop their leadership skills through continuing education and conferences. Kudos to you!
Recruiting and retaining veterinary talent remains an immense challenge. But with less than 15% assessing culture fit in interviews, poor hires who quickly leave are common. Though culture drives retention, it's overlooked.
As burnout escalates yearly and wages/benefits trail other sectors, practices continue to struggle retaining staff. Supporting mental health and prioritizing culture is key to empowering and retaining teams long-term.
Only 21% of practices are running criminal background checks. Uh oh.
"Practice managers urgently need help protecting their time," said Tamisha Cronick, iVET360's Director of HR & Team. "In the past three years, they've prioritized working IN the business when the data shows it's time for them to be working ON the business." The report also spotlights the pressing issues of practice manager burnout and mental health- an epidemic within our industry. This report would not be possible without the generosity of the managers, owners, and veterinarians who shared their candid perspectives and experiences from inside the world's veterinary practices. Their commitment to moving the profession forward is inspiring. At iVET360, we aim to support and empower those working in animal care. We hope this report provides an industry-wide view, actionable solutions, and reassurance for our valued veterinary professionals.