Teaching The Teachers
THINK YOUR EMPLOYEE TRAINING IS JUST FINE? IT'S LIKELY YOUR TEAM WOULD DISAGREE.
When hospitals start with iVET360, over 70% of employees feel their current practice's training program is not effective. Even more disappointing is our finding that most poorly-performing individuals and teams aren't actually substandard performers—they were just never trained properly. When you give your team members the tools they need to succeed from the beginning you set them up for success. Updating training programs and offering opportunities to learn is also key to keeping your team members engaged.
What We Do


Overview
TRAINING
Effective training and CE programs are highly specific to an individual hospital and should change over time to account for protocol modifications, medical advancements, and a variety of employee learning styles. We'll evaluate your new hire and ongoing training program and improve what you have or create an entirely new custom curriculum. Our HR & Team Managers will also help implement innovative training tactics and leverage our LearningVet.com tool to take some of the direct training off your plate. And when the problem with your training isn't the tool but the trainers themselves? Not to worry—we specialize in coaching and development guidance.
Our LearningVet.com training and performance management tool is exclusive to iVET360, and we can't overstate how helpful this platform is for all aspects of veterinary-specific training. It hosts hundreds of training modules on client service, communication, supervisor skills, managerial skills, CE, and links out to other veterinary learning systems, allowing you to manage all of your team's learning (and performance!) in one place. Our HR & Team Managers are the human part of the training equation and will help your training program stay current and relevant to match what your team needs.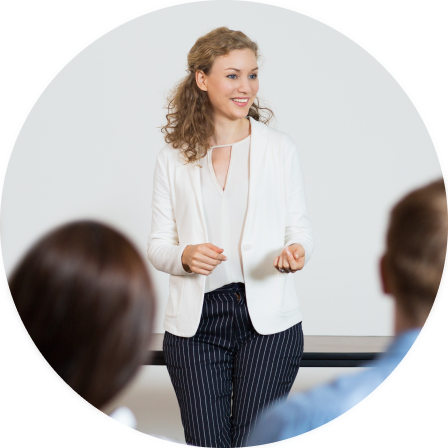 The
Difference