Instagram is More Than Just Cute Pet Pics—Learn How it Can Help Your Animal Hospital
Did you know that Instagram, the ultra-popular photo-sharing app, is now offering Local Business Profiles à la Google My Business (GMB)? Being active with this feature is important so you can stay one foot (or one paw) ahead of your competition.
---
Instagram Local Business Profiles
Acting as an extension to your Instagram Business account, these Instagram Local Business Profiles have the same standard information as their GMB counterparts, which include:
Address
Business type or business category
Hours
Price range
Web address
Phone number
Animal hospitals can claim their Instagram Local Profile page if they manage a Facebook account for that same business (which comes as no surprise, since Facebook does own Instagram). Once claimed, they then will be able to edit the aforementioned information.
---
How Exactly Does this Feature Work?
Because Facebook and Instagram are operating under the same umbrella, Facebook will automatically populate a business's Instagram page with the data they have on file. With that being said, now—as in, right this moment—is a great time to make sure your practice's Facebook information is up-to-date. That way, you won't be caught off guard when it does in fact auto-populate.
If you don't use Instagram and therefore think your animal hospital doesn't have an Instagram Local Business Profile account, be warned—your practice does, in fact, have one regardless of if you use it or not. Just like GMB pages, all animal hospitals have an IG Business Profile somewhere out there, that's why it's extremely important to claim it, just to ensure that the information associated with this page is in fact managed by someone affiliated with your practice.
Here's a scenario for those animal hospitals who haven't claimed their Instagram Local Business Profile: a client has taken a picture at your animal hospital, and then proceeds to tag this picture with your practice name and location (we have seen this happen before).
What Instagram users can do is follow the tagged photo, where they will be able to see standard business information about your animal hospital, which is pulled from your Facebook profile. But, if you haven't claimed your Instagram Local Business Profile, you have no way of editing—or adding anything—to this content. This is why it's so important to claim your Instagram Local Business Profile.
---
Step-by-Step Claiming Process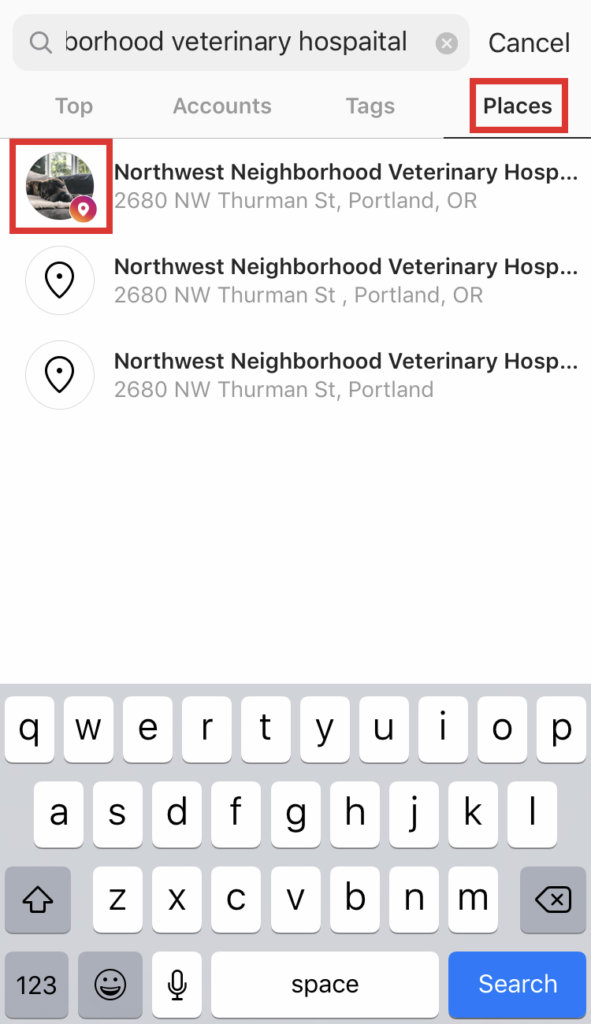 Step 1.
Start by using the "Explore" (magnifying glass) feature in Instagram and tap the "Places" tab under the search field.
Search for your hospital name and select the one with an image and the Instagram colored marker. Notice that there might be multiple listings for your animal hospital.
---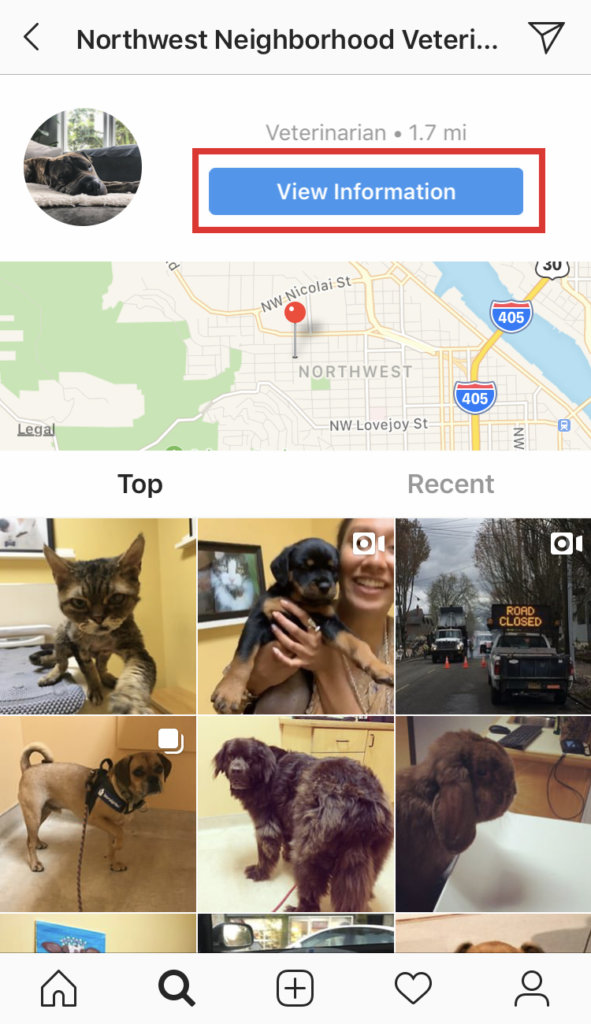 Step 2.
Once you select your hospital name you'll be taken to a page that shows all photos tagged to your location along with a map indicating the location of your hospital.
Click "View Information" to start the claiming process.
---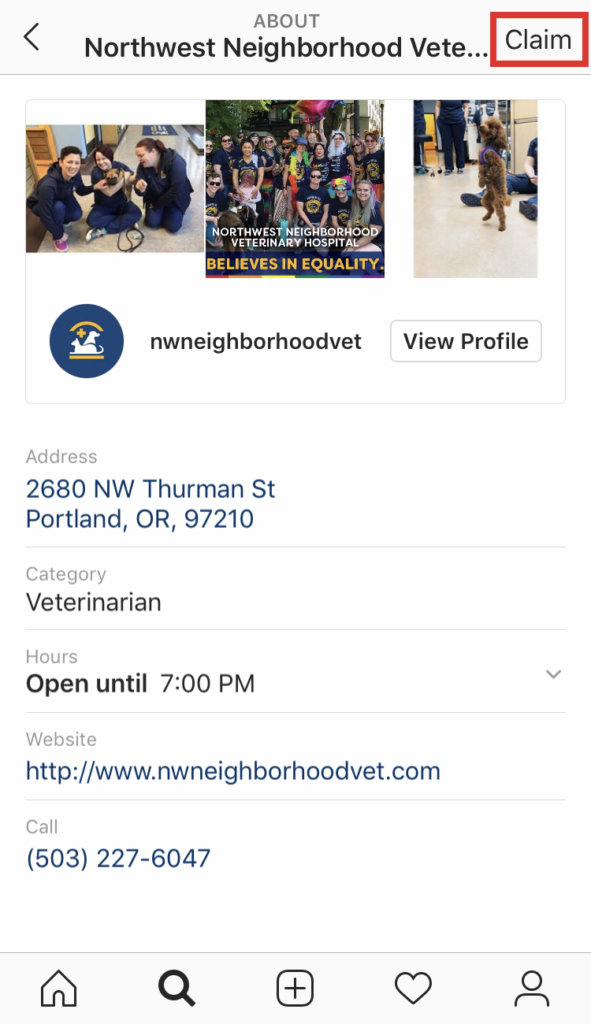 Step 3.
Look toward the top right of the page for the word "Claim."
Click it!
---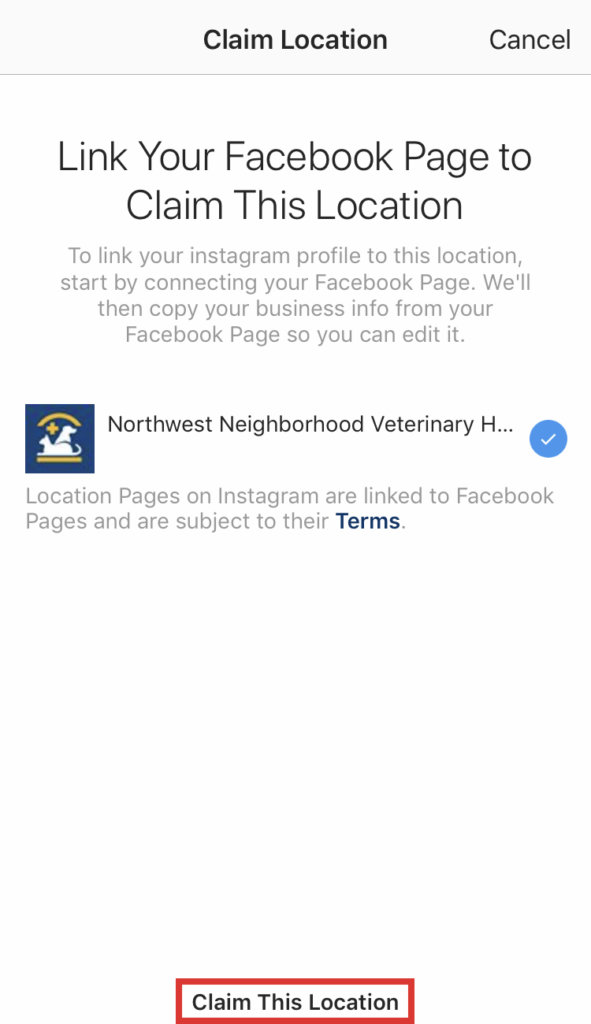 Step 4.
Finally, you will be prompted to link your Instagram Local Business Profile to your Facebook Business Page.
From here you'll be able to edit your Instagram Local Business Profile to ensure your info is correct.
---
What Does this Mean for Posting Pictures?
Many veterinary hospitals use their Instagram pages to post cute pet pictures, which is great because the world never tires of adorable animals doing amazing things. This means that optimizing your presence on this social media outlet is now as important as ever.
Instagram business profiles show that, along with your standard information, thumbnails of your three most recent image posts will be displayed on your business page (but not videos). This brings up some interesting things to ponder in terms of how you want your practice to be perceived on IG.
Think of it this way: since these three images will be in the same area as your standard business information, you're going to want to select three pictures that best represent your hospital. This goes back to what we mentioned earlier regarding cute pet pictures.
To elaborate, we are not suggesting that you refrain from posting pictures of animals, rather, we are suggesting that you be strategic with what you post.
You can include pictures of animals getting exams, or images of the interior of your hospital—anything that will help promote your practice. So basically, you can still include cute pet pictures, but try to incorporate some imagery that also speaks to the ethos of your hospital.
You could also choose to feature graphics that help advertise your practice. Many veterinarians are choosing to offer free first exams to new clients, and Instagram is an excellent way to highlight this promotion.
If you're concerned that a free first exam may be counterintuitive in terms of profit, we conducted a recent study which should help quell any of those doubts. Long story short, our study revealed that free first exams, in the long run, proved to have excellent value.
Another thing to consider with Instagram is their ads. This feature lets companies create ad objectives, narrow down a target audience, determine budgets and more, all with the goal of reaching more users to promote a business. Of course, if Instagram ads and business pages sound too overwhelming and you just want to focus on healing animals, we are here to help.
---
Let iVET360 Manage Your Digital Strategy
At iVET360, we provide non-clinical support to veterinary hospitals across the country. We focus on three key areas: marketing, analytics and HR and training. As far as Instagram, our marketing department would be the experts who would handle this for your practice.
Along with Instagram, our marketing staff are also versed in Google, Facebook, Yelp and Nextdoor, and we stay abreast of any digital trends to make sure that the hospitals we partner with are set up to do two main things: heal animals and make a profit while doing so.
If you're interested in working with a trusted friend of the veterinary industry whose results speak for themselves, contact us today. A friendly iVET360 recruiter will get back to you as soon as possible to discuss how we can help enhance your veterinary hospital. You can reach out to iVET360 here.