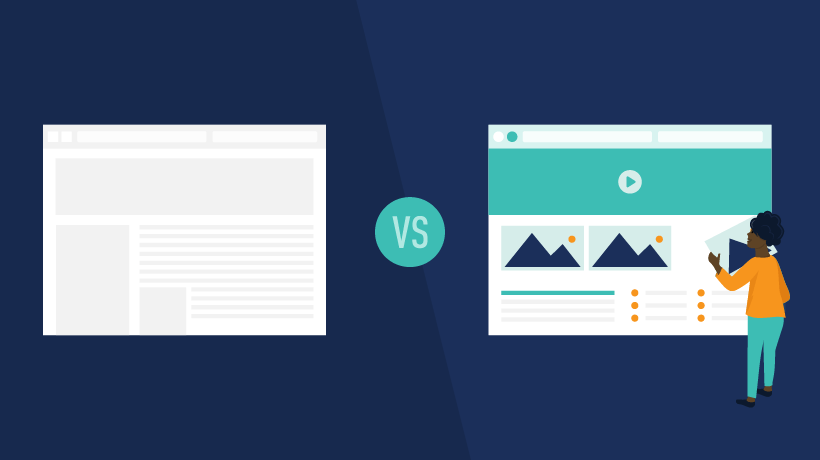 Veterinary Practice Websites: Why You Shouldn't DIY
Stats from iVET360's 2020 Veterinary Marketing Benchmark Report show that do-it-yourself (DIY) websites grew by 10% last year. We get it—they're cheap, or maybe even free as a perk from your reminder platform.
At first glance the drag-and-drop technology makes it seem like it'll be no sweat to put together a decent-looking site without the expense of hiring a professional developer. And let's face it: most small business owners have a little control freak in them and the idea of not having to consult anyone else in the process may sound blissful. So what's not to love?
Well…a lot, actually. DIY website builders such as Wix, Weebly, and Squarespace may look okay (more on that later) but they only go skin deep when it comes to function, tracking, and meeting your practice's needs and goals. What's more concerning are issues involving search engine optimization (SEO), disability access (ADA), slow site loading, and the installation of an extremely useful free tool—Google Analytics (GA). All these features are difficult for any novice builder to implement or correct, and without them, your site is DOA. (And yes, #vetnerdsloveacronyms).
So before you strike out on your own, young Padawan, here are a few things you might want to consider.
---
Neglected SEO
If you're going to avoid being on the dreaded second page of search engine results, your site must have optimized SEO, which requires a little skill and some time to do well. Do you know how to do it? And realistically, do you have the time?
The likely answers to those questions can be found in the low number of veterinary sites created on these DIY builders who do have optimized SEO: Wix-14.6%, Weebly-6.6%, and 11.7% on Squarespace.
---
Absent ADA
ADA-accessible features can be difficult to install on websites, which explains why virtually none of the animal hospital sites on Wix, Weebly, or Squarespace are ADA compliant. Why is it important? Because it makes a practice website's information accessible to differently-abled people, who also have pets that need care.
Showing the public that you are aware of differences in ability and functionality is also a good representation of how well you'll care for their pets. If your website isn't ADA accessible, you're likely losing clients and money.
---
Missing GA
Google Analytics gives you invaluable information about your website, including who's visiting and when, what they searched to get there, which pages are getting the most traffic, and more.
While 86.6% of Weebly-created sites have GA installed, only 26.8% of Wix-created sites do, and less than a quarter of Squarespace sites are using this invaluable free tool. Google offers a step-by-step guide on how to add GA to your site, but unless you're super tech-savvy, you might find it a challenge to get right.
---
Lengthy Loading
No one likes waiting anymore, especially for websites. In fact, 53% of mobile site visitors will leave a page that takes longer than three seconds to load. Google also states simply improving your load time by 0.1s can boost conversion rates by 8%. DIY websites tend to have cheap hosting and that can mean relatively glacial loading speeds.
Wix sites currently sit at 4.3 seconds load time, Weebly at 5.4 seconds, and Squarespace at 5.9 seconds. All over the 2.5-second mark that Google wants for your site. Hello? Anyone still there?
By the way, a slow-loading website doesn't just hurt you with impatient clients—it hurts you with Google, which uses site speed as a metric when determining search results.
---
Free Only Goes So Far
As with most things in life, you get what you pay for, and that's certainly true with DIY website platforms. Free plans may include ads on your site. Those no-fee templates can be pretty generic. You may also find that to make your site look and function the way you want, you'll have to pay for upgrades and subscriptions that'll eventually cost you as much as a real, live, heavily caffeinated web developer.
DIY websites have their place and can be useful and fun, especially for microbusinesses. But even if you're super tech-savvy and enjoy the challenge of designing and building your own site, it's a time suck—and judging from what we know about the veterinary business these days, don't you have enough on your plate?
Get a great looking, fully functional, optimized website for a lot less than you think.
iVET360's Website Only service is available now and can have your site up and running in 10 days. Click here to learn more