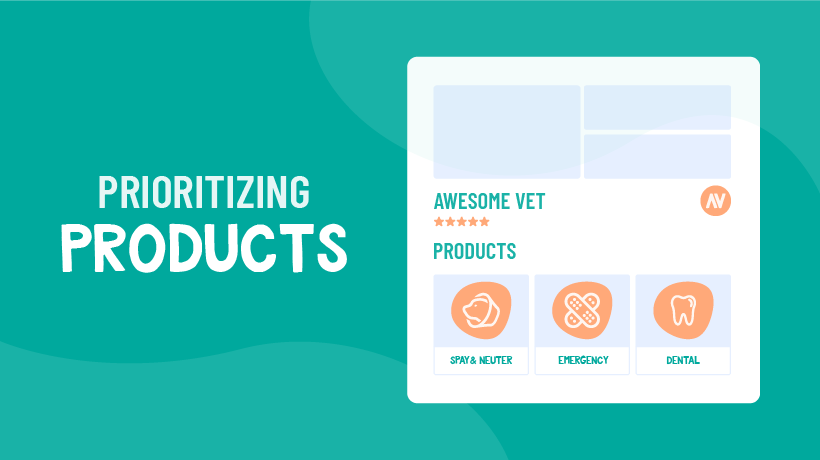 Put Your Veterinary "Products" Up Front
Google finalizes Products feature for business listings
Think of it as a digital version of a store-front window on Main Street, and you'll have an idea of how the Products feature for your Google My Business (GMB) listing works. It's been around since 2018 in beta testing but now is available to all small and medium-sized businesses who don't have the ability to integrate product feeds via Google's Merchant Center like larger companies do.
The Products add-on to your GMB listing is a very visible option on mobile, desktop, and even in Google Maps. Google also has a companion Services feature, but it is nowhere near as visible—that's why using the Products feature for showcasing your practice's services is a much better choice.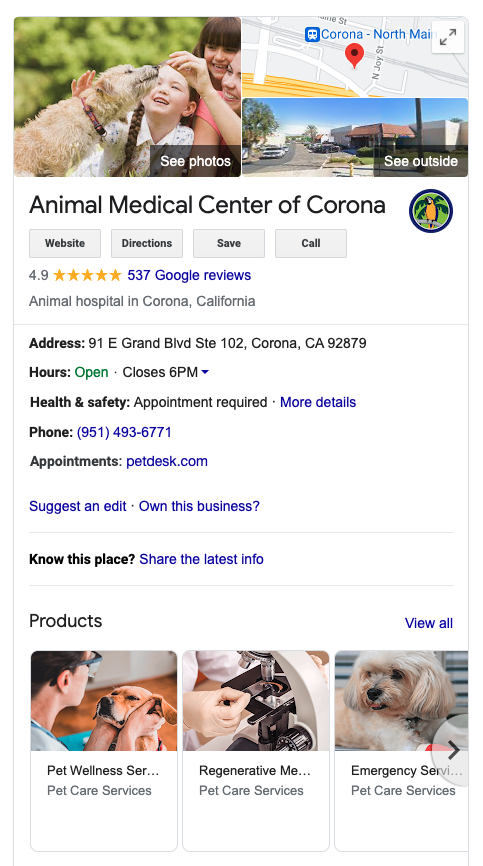 When you opt to add it, "Products" appears just above the Q & A on your business listing like this.
The idea here is to list some of the services you have to offer as your "products" and drive more interaction with current and potential clients. If Thor the husky needs a microchip, and "microchipping" is displayed right on your listing, it follows that Thor's owner is much more likely to go ahead and call you rather than shop around. Once he catches his dog, that is.
If you're an iVET360 client, we are happy to work with you to get Products added to your GMB listing. We'll also handle adding UTM codes* so we can track traffic from the individual product listings and see what services are getting the most interest on your listing.
Not an iVET360 client? Here are the basics for how to add Products for your practice—but one heads-up before you start: if you added Product Posts to your listing in the past, be advised that there is no longer any difference between Product Posts and Products. Even though you will still see and can access both in your GMB interface, you will now just be populating the Products feature no matter which entry point you use.
Look for the Products tab in your GMB interface
You'll see a window that will ask for the following, and you'll need the same for every product you add:


An image (recommended size: 1,200 x 900 pixels)
Product name (no more than 58 characters)
A category. You can set the category name once and then it will be available for the rest of your posts. You can also do multiple categories.
A product description (no more than 1000 characters). Nothing auto feeds from your website, so you will need to copy and paste it form your site or type it out.

Price, call to action, and URL for the button (Learn more, Order online, Buy, etc.) are considered optional. For veterinary practices using this feature to list services, price probably isn't something you want to display. Call to action and URL are no-brainers, however.
Pro tip: When you add your services to the Products feature, you'll want to make a list of what you're adding, when it was added, the copy you used to describe the service, the URL, and other specifics. You can easily use Google Sheets for this purpose, and this inventory will be super helpful to you when you go back to update.
If you're wondering about adding actual retail products to your Products listing, we don't recommend it because we won't be able to track it, as the link to the product likely goes to your online pharmacy website. And let's face it—dental chews and flea meds shouldn't be your primary source of revenue anyway. (But if they are, we can help with that, too!)
One last thing: Products isn't just a "set it and forget it" feature. If prices, URLs, or availability of the service change, you'll need to make sure it's changed on your Products panel as well, lest you lead users to frustrating 404 error pages or website prices that are different from the ones seen advertised on your Google listing.
---
We've seen this Products feature really pay off for our clients. Have questions or want some help? Don't hesitate to reach out to us and we'll be glad to offer an assist.
*UTM stands for Urchin Tracking Module and refers to the Urchin software that is the basis for Google Analytics. UTM codes are bits of text that are added to a URL so activity on that link can be tracked by Google Analytics.