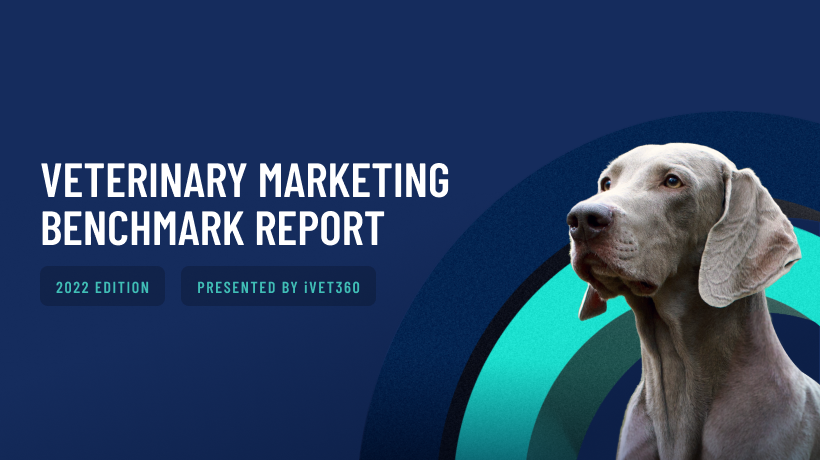 iVET360's Releases 2022 Veterinary Marketing Benchmark Report
iVET360's free 2022 Veterinary Marketing Benchmark Report shows corporate practices dominate marketing
For the sixth consecutive year, iVET360 has created and published the Veterinary Marketing Benchmark Report (VMBR)—the largest, most comprehensive study of the digital marketing practices of veterinary hospitals around the country. It is now available for all veterinary practices to download for free.
Just as in years past, the 2022 VMBR surveyed 1000 accredited veterinary hospitals in 50 states. However, given the rise in the number of corporate practices, this time the resulting data was split in two, comparing 500 independents with 500 corporate hospitals, as well as 30 corporate groups. This also includes a sweep of 22,127 veterinary hospital websites and features a look at the top 30 veterinary marketing providers, revealing some startling findings:
7.7% of veterinary hospitals still don't have a website
10 large corporate groups have contracted with the exact same website and marketing provider
Corporate groups are outspending independent practices by 5x in Google Ads
Over 55% of hospitals have gone outside the veterinary industry for marketing assistance
"Independent practices need to wake up and realize that it's not a level playing field," says iVET360's Chief Revenue Officer Justin Vandeberghe. "You're up against billion-dollar companies that are creating awareness, connection, and new clients through consistent marketing. You may be too busy now, but that's not going to last. This report shows you how to compete."
iVET360 has published this report annually since 2017 and it remains a bias-free, in-depth look at digital marketing best practices. In addition to the complimentary report download, iVET360 also offers a free custom analysis of your hospital for the asking, so that you can see how your practice's marketing efforts measure up to what's happening in the industry.
---
Established in 2013 and headquartered in Portland, Oregon, iVET360 is a practice management services company that provides critical support to veterinary hospitals across the nation. Their specialists educate and assist veterinary practices with marketing, HR & team development, and analytics to ensure the complete implementation of proven business strategies into the daily activities of the hospital.