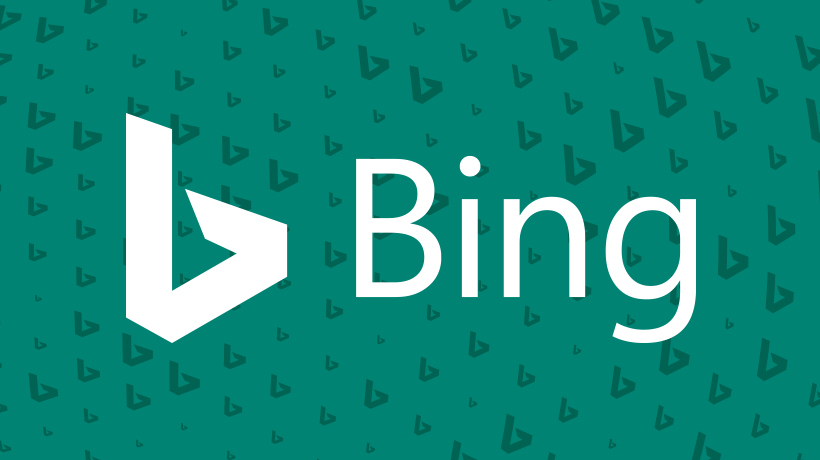 Why Your Animal Hospital Should Be Paying Attention to Bing
What's Bing?
We've talked extensively about Google in the past, which makes sense—it is far and away the most popular search engine out there that people use to find information about almost anything, old and new. However, there are other options that people utilize when they are looking for things online. In this article, we'll be talking about Bing, specifically Bing Places for Business, which is a tool designed to increase the exposure of businesses.
What's Bing Places for Business?
Bing Places for Business is a free feature offered by Bing which essentially helps promote a business. You can think of Bing Places as being very similar to Google My Business. For our purposes, we'll be talking about animal hospitals. When used correctly, Bing Places for Business would function in this manner:
A client goes to Bing and searches for a veterinarian
Their search leads them to more information about this vet, including possible coupons or promotions displayed in the Bing search engine
From there, they contact this veterinarian to make an appointment for their pet
While the above steps sound simple, they do require a little bit of legwork on the part of the business as far as exposure goes.
How Do I Get My Hospital Set Up on Bing Places?
Setting up Bing Places requires minimal effort, and once this setup is complete, there is little maintenance required (unless your hospital changes something like its name, address or phone number). To begin this process, first, go to Bing and search for your practice, where you may already be listed.
If you are already listed, your next step would be to claim your listing (so that you can update your business information). If you aren't listed, then what you need to do is add your business.
From there, you should complete your listing profile, which means adding information about your practice including your hours, services, contact information, photos and more. Once you are listed, you then have to verify your account, which is a simple process that Bing will walk you through.
Should I Honestly Be Using Bing?
As we mentioned earlier, Google does indeed dominate the search engine market, however, Bing is slowly moving up in terms of usage. People who make searches on desktop computers use Bing 25 percent of the time, which is a good chunk of the public. For mobile searches, however, this number is only at three percent, but it's important to consider that Bing usage on desktops has slowly risen every year, which could mean the same thing for mobile devices in the future.
Either way, these numbers demonstrate that Bing is indeed a viable option in terms of usage. So, if you're asking yourself if you should really be using Bing, the answer is: Yes! One in four computer users are using this platform, and since Bing Places is absolutely free, there's no reason as to why you shouldn't be using Bing.
What Are Bing Deals & Discounts?
Bing Deals & Discounts is a feature that lets businesses share digital coupons on their Bing Places listing—meaning, if a business used this tool, these coupons would show up on a Bing search, to entice clients to take their business there. See Figure 1 below for an example of how iVET360 is using Bing Deals & Discounts. Additionally, you can think of Bing Deals & Discounts as similar to Google Offers and Nextdoor Offers.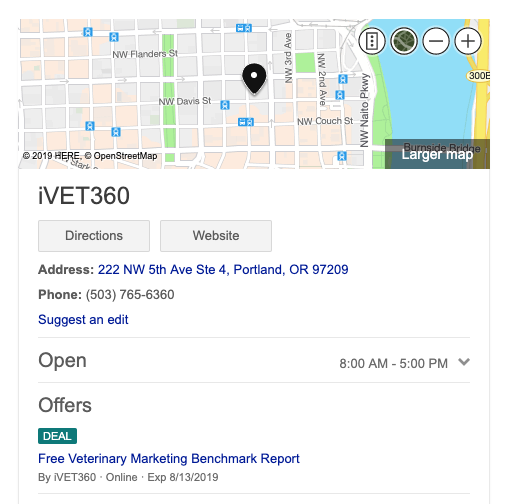 There are different options that a company can take when they are posting one of these digital coupons:
What a veterinary hospital can do, for example, is offering a free first exam, discounted special like a dental cleaning or they can choose their own promotion. Basically, Bing Deals & Discounts functions as yet another way to advertise your animal hospital. Or, in Bing's own words:
"Promote your business for FREE! Millions of Bing users are searching for businesses who offer a deal or discount. Attract more customers by offering a deal or discount."
---
I'm a Veterinarian—I Just Want to Work with Animals!
Being up-to-date on all the latest digital marketing strategies is not an easy task, especially if you work at a veterinary hospital, where lives are on the line and there are many things at stake. Therefore, it's not surprising if the ins-and-outs of Google, Facebook, Bing and Nextdoor are at the bottom of your to-do list.
This is why at iVET360 we have dedicated our business to working with veterinarians to handle their marketing (and other things) for them. A successful animal hospital doesn't just provide top-of-the-line veterinary care, they are also well-versed in how to advertise their hospital to increase their client counts to ultimately bring in more revenue.
At iVET360, we have three departments: marketing, analytics and HR and training. Long story short, we work with hospitals to manage these aforementioned departments, with the goal of helping veterinarians help more pets.
If you're interested in working with us, we encourage you to contact us today. Our friendly staff will answer all your questions about how we will help enhance your veterinary hospital, one step at a time.