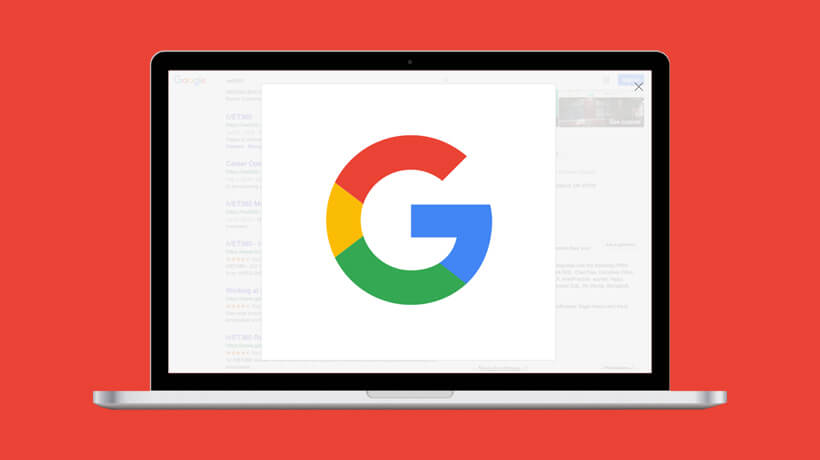 How Google My Business Offers Can Help Your Hospital Book More Appointments
The Smartphone Takeover
In retrospect, it's marvelous to think about the whole idea of the smartphone and how this complex device has so many capabilities. With smartphones, we are able to do things like take detailed pictures and videos, play an assortment of games, gain access to hundreds of thousands of songs, browse the web for random factoids and perform many, many more functions.
For some people, making an actual phone call on their smartphone is the activity that they do the least.
Since smartphones are slowly turning into the norm regarding the accessing of information, there has been a steady shift in their prominence in relation to digital marketing. Google, ever the trendsetter, has taken note of this rise and has adjusted its marketing tools accordingly, especially with Google My Business (GMB) Offers.
In this article, we will talk about a subtle, but significant change in the appearance of GMB Offers for mobile users and we will also highlight how your veterinary hospital can benefit from this change.
---
But First, Let's Talk About Google Posts
One of Google's tools that we have talked about many times over has been the Google Knowledge Panel. Within the Google Knowledge Panel (GKP), there is a function called Google Posts, which businesses can use to post content pertaining to these categories:
What's new posts
Event posts
GMB Offers posts
Product posts
The latest change Google has made to these categories is with GMB Offers posts and how these Offers are shown on smartphones. If you aren't clear about what GMB Offers are exactly, below we'll provide a brief summary and an example.
---
What is a GMB Offer?
GMB Offers are essentially digital coupons that are displayed on a company's Knowledge Panel. When businesses create one of these free Offers, they can add a description of the deal, a coupon code, any terms and conditions that apply to the promo, a phone number and/or a link to a form on their website.
As far as phone numbers and links go, one advantage of adding them to an Offer is that they can be easily tracked—meaning, a hospital can use a different phone number that is just for an Offer, and with this specific number, they can track the success of their Offer based on call volume. The same goes with online forms, which can also be tracked and eventually traced back to an Offer to gauge its success.
One popular Offer that we have constantly encouraged our veterinary partners to use has been for them to offer a free first exam to new clients. While this promotion may sound counterintuitive financially, our research has shown that, in the long run, free first exams are indeed very profitable.
Other GMB Offers that veterinarians use include $1 new client exams, savings on heartworm and/or flea medication and other deals. Along with helping bring more clients in by gifting them with various promotions, GMB Offers basically acts as another avenue for which to promote your veterinary hospital—and, once again, this function is entirely free.
---
Which Brings Us All Back to GMB Offers on Smartphones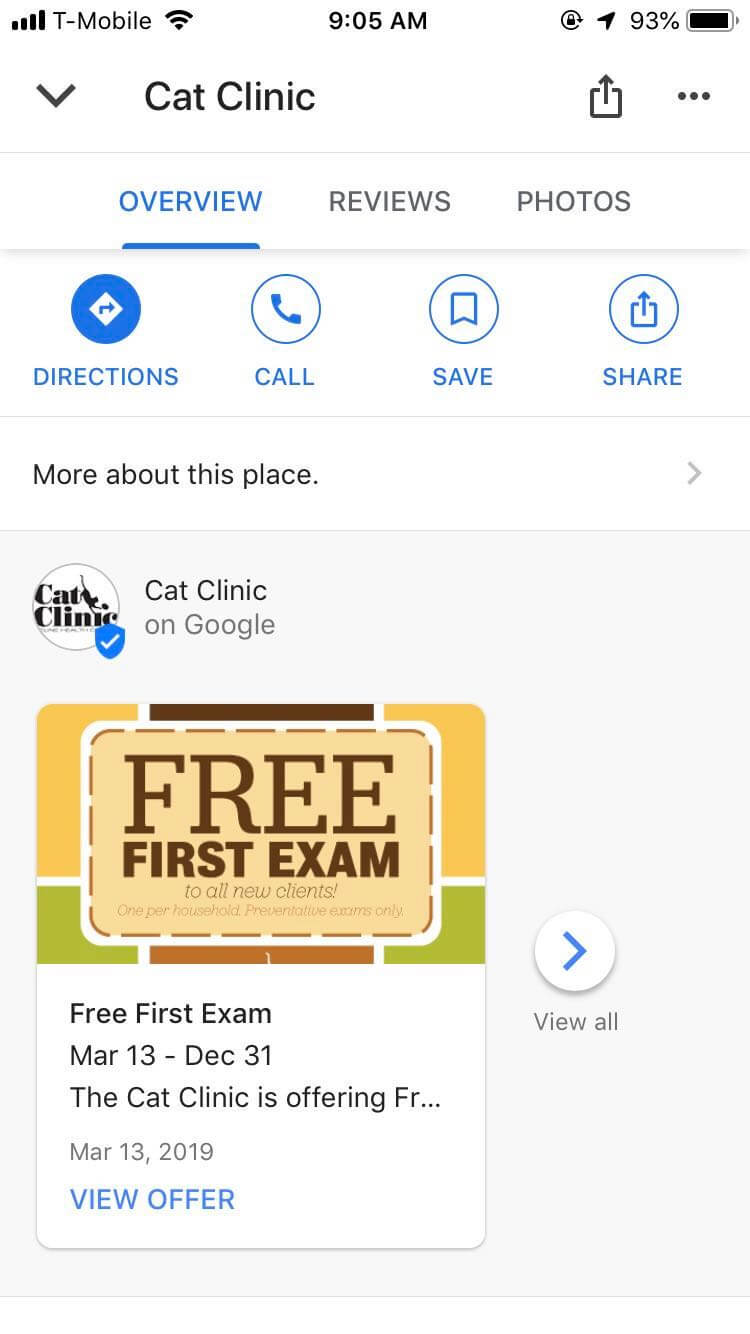 Recently, Google changed the way that Offers are displayed on a company's Knowledge Panel (remember, a GMB Offer is a type of Google Post). In the past, ALL Google Posts were shown at the very bottom of the GKP, under pertinent data such as a business's standard information (address, hours, phone number, etc.), online reviews, Google Questions and Answers and more.
Now, for mobile devices, all GMB Offers are displayed much higher on the Knowledge Panel—they are shown immediately under the standard business information, rather than being buried at the bottom.
This change, while minuscule, does wonders for marketing, as the real estate of the Offer has been moved up which means that it is easier for people to see. Any other Google Post, however, remains at the bottom.
For veterinarians trying to increase their client count, the GMB Offer update on mobile—combined with a free first exam coupon—proves to be a valuable option that hospitals can use to gain new clientele.
If a potential client is looking for a vet near them and then comes across a practice's Knowledge Panel with a free first exam promo, this deal can be hard to turn down—after all, who doesn't like a freebie?
It is important to remember though that this GMB Offers update only affects smartphones for now.
---
I Want to Utilize GMB Offers, But I Am Completely Lost. Help?
At iVET360, we specialize in offering marketing, analytics and HR and training assistance to animal hospitals across the country. Within these departments, we help veterinarians with:
Regarding marketing, we work closely with Google to stay abreast of digital best practices that help animal hospitals with their advertising needs. We have designed our business this way—let us handle the non-clinical aspects of veterinary medicine so that the veterinary experts can focus on what they do best—helping heal companion animals.
If you are looking to accelerate your hospital's operations, increase your client count and ultimately increase your revenue, we encourage you to contact us today so we can discuss what we can do for you.