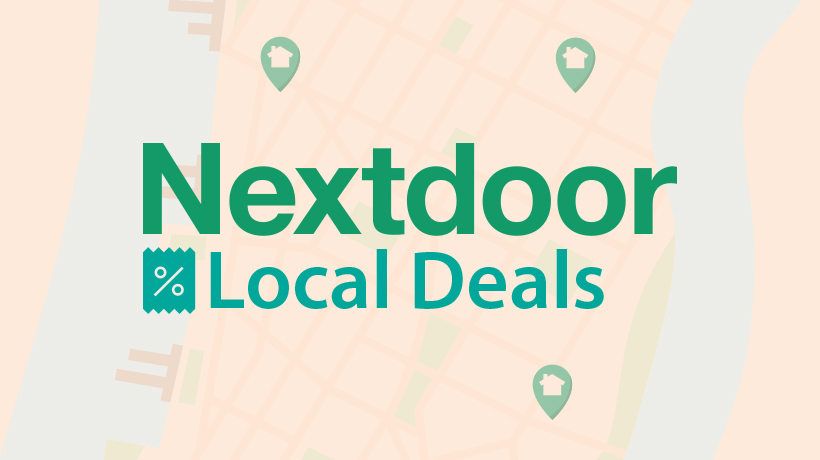 Nextdoor's Local Deals: The Real Deal for Your Practice
Back in April, we told you about Nextdoor Offers, and how it could help market your practice to the people who matter most—those in your own neighborhood. Nextdoor Offers was easy to use and best of all, it was free.
Of course, we expected that once Nextdoor finished beta testing "Offers" they would want to monetize it, and that's exactly what happened. As of this week, they have changed the name to "Local Deals" and while it's no longer free, it's still a smart choice when you consider that most consumers make 90% of their purchases within 15 minutes of their home.
Nextdoor's Local Deals are currently running on a cost-per-impression model. This means pricing is fixed and you are charged based on how many times your ad or "deal" appears on the platform and the number of neighborhoods targeted.
Will that change in the future? You can bet on it—but for now, bidding and competition doesn't impact pricing on Nextdoor as it does on Google Ads.
---
So What Makes Local Deals Worth Paying For?
Nextdoor made substantial changes to the original "Offers" feature that go beyond pricing and a new name.
Your practice's Local Deal will appear in multiple places, making it both a paid search and display ad. It will be served up in residents' feeds, featured on business pages and the Business section, in a neighborhood-specific Local Deals area, and as a sponsored listing in search results.
Simple, self-service ad creation. You'll need to set up a free Nextdoor Business page if you haven't already. Once you do that, the site will walk you through the ad creation wizard, which is infinitely easier to use than Facebook's unholy maze of an ad-making tool.
Potential customers can choose to "save" and redeem" their chosen Local Deals in your practice or online. While currently, Nextdoor is not able to track store or location visits generated through Local Deals, they are tracking and reporting deals that are saved and redeemed by users. Pro tip: Local Deals is best used when you have an offer, and not for general branding.
Still not convinced? Look at these recent real-world results from two of our iVET360 hospitals when they utilized Local Deals for a Free First Exam offer: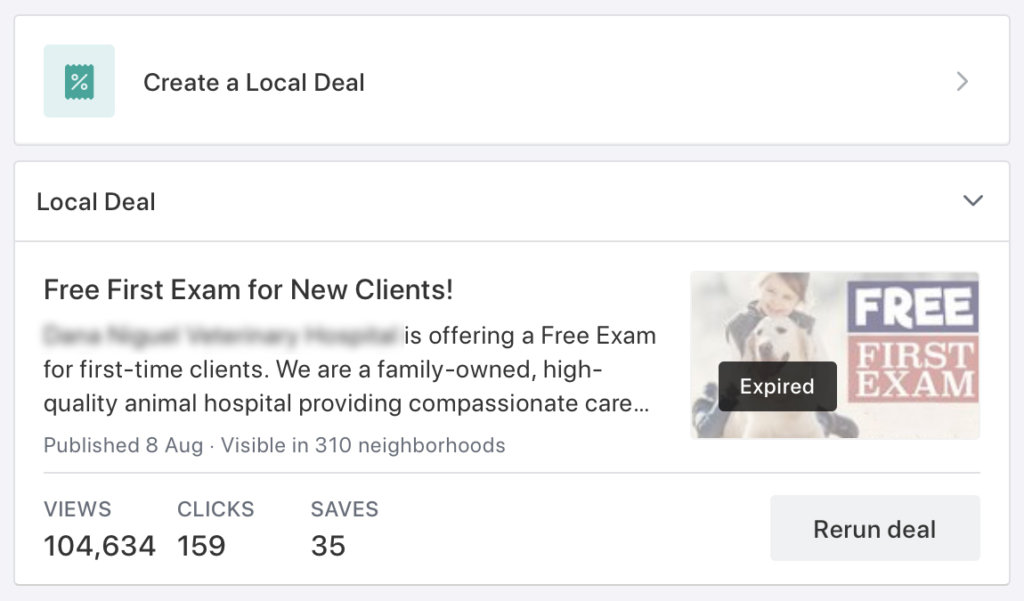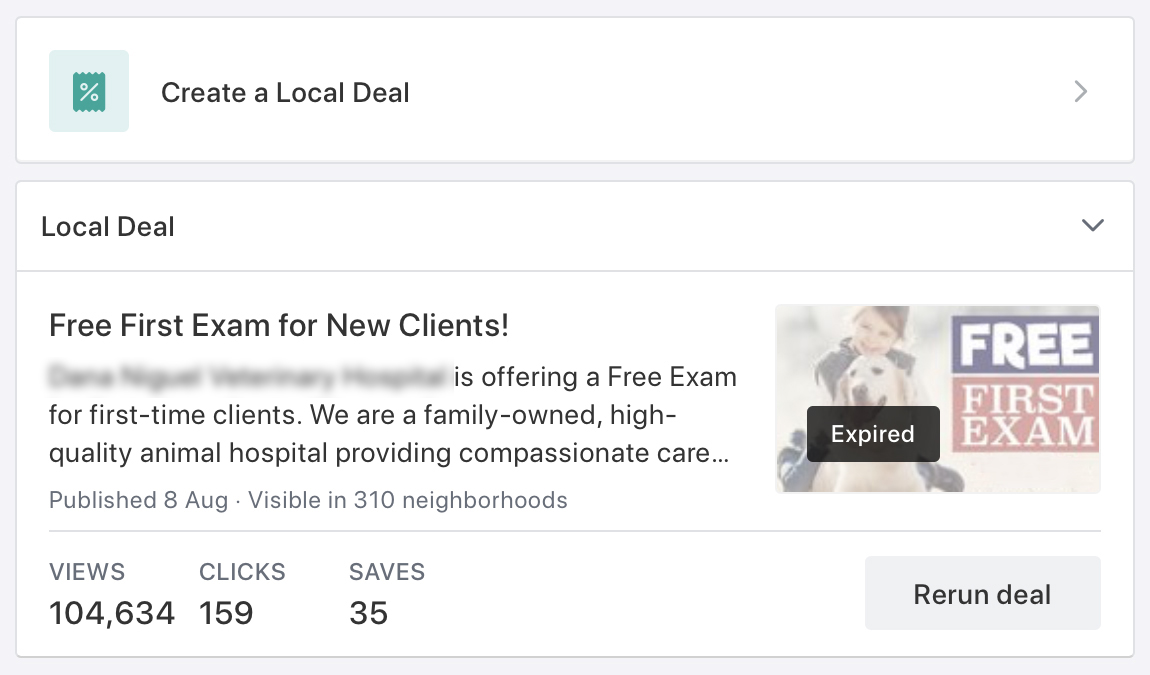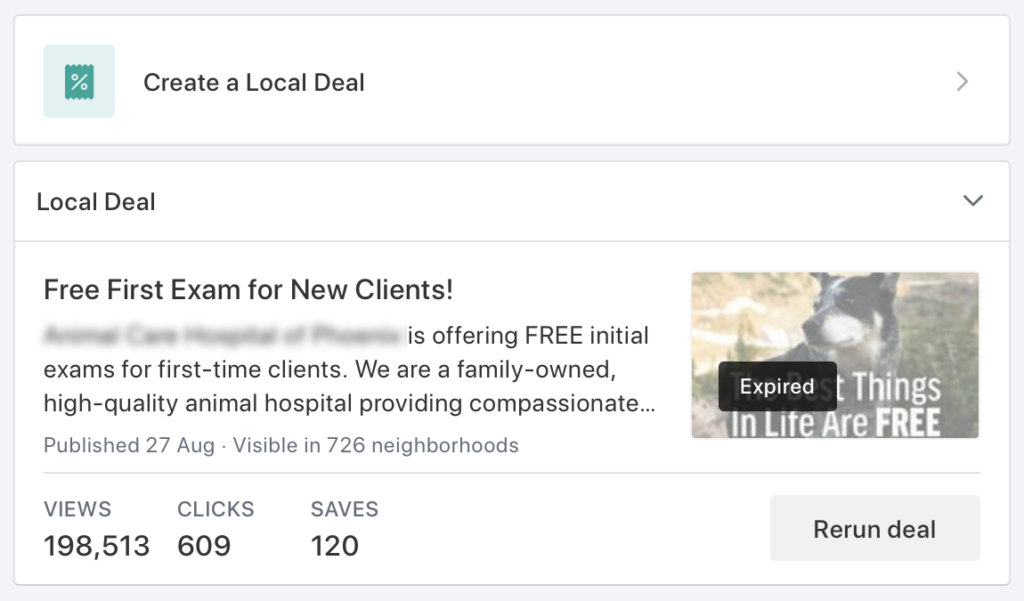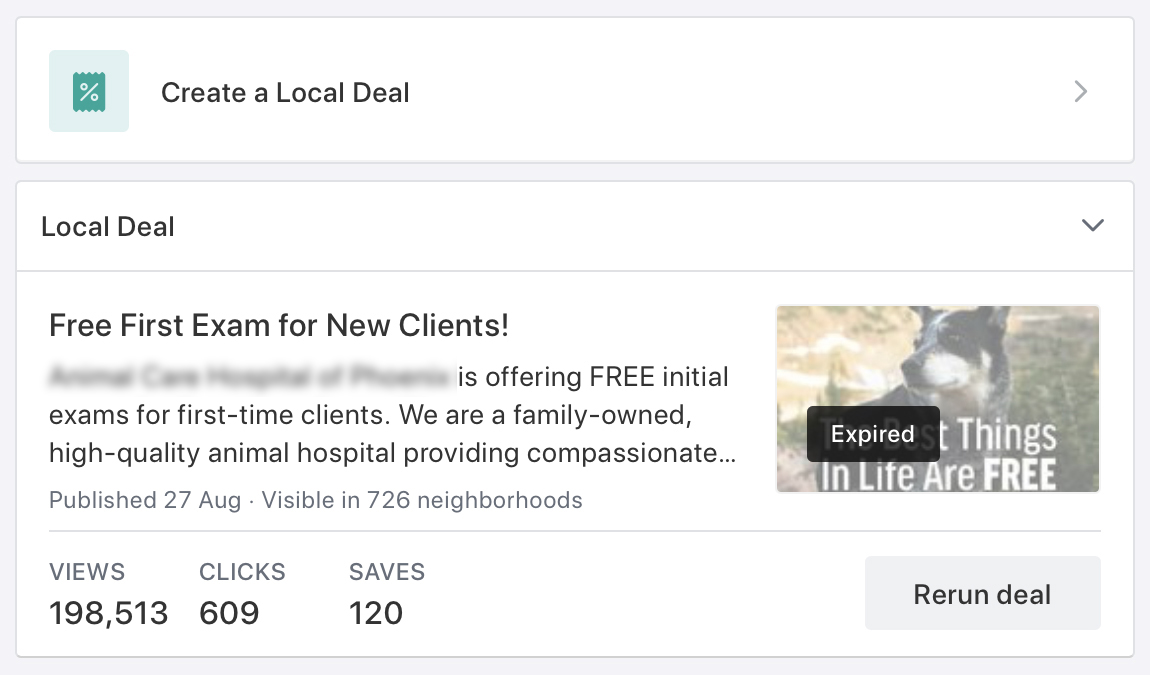 Both hospitals ran the Local Deal on Nextdoor for a month at a cost of approximately $200.00. Hospital A ended up with 7 new veterinary clients, Hospital B with 19. Those new clients ultimately spent an average of $481.00*—meaning Hospital A saw a return of $3367.00 and Hospital B hauled in $9139 on an initial investment of $200.00!
* On average, hospitals that work with iVET360 see $481 annual spend per new client.
Considering that each ad received well over 100,000 views, this Local Deal functioned as great branding for these practices as well.
---
A Megaphone for Word of Mouth About Your Practice
While it's true that Nextdoor can be an entertaining mix of suburban drama and coyote sightings, there have also been over 40 million business and service recommendations on the site. Even more significant is user polls showing that 76% of members have been influenced by a neighbor's suggestion on Nextdoor.
That's why at iVET360, we've been way ahead of the curve on Nextdoor. 100 percent of the hospitals we support are active on the site, compared to 15 percent of the rest of the industry.
This is relevant because our data shows that practices that are active on Nextdoor have an 18 percent higher number of recommendations than hospitals that aren't active (keep in mind that every hospital, whether they know it or not, has a Nextdoor profile).
Ready to take advantage of this hyper-local marketing tool that puts you front and center with your neighbors? We can show you how, or even take care of it completely while you're making the world a better place for pets.
---
Let iVET360 Handle All of This for You (And More)
At iVET360, we partner with veterinary hospitals to accelerate their marketing, analytics and HR and training operations. In other words, we handle all the non-clinical aspects of a practice's business, so that doctors can have more time to do what they do best: help heal companion animals.
Our marketing experts are well-versed in all things Facebook, Google, Yelp, Nextdoor, and other related avenues. By partnering with iVET360, our track record shows that we will improve your hospital's website, social media strategy, employee engagement, culture, revenue optimization and much more.