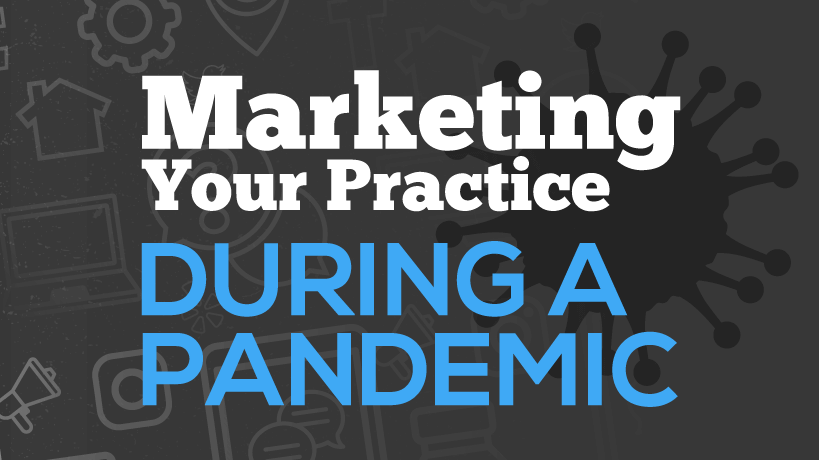 Marketing Your Practice During a Pandemic
Yes, you should. Here's how to do it the right way.
The truth is that we're all in uncharted waters when it comes to reaching out to our customers right now. We are not only navigating a pandemic but trying to stay afloat after a near-shutdown of our economy. It is a stressful, and frankly frightening time.
Your initial reaction might be to cut everything but the bare operational necessities from your hospital budget—including marketing. However, we'd like to make a case that the better strategy is to adjust your marketing focus so that you can retain clients, grow your margins, and keep your doors open long-term.
The good news for the veterinary sector is that while business and revenue have been significantly impacted, in most cases your services are considered essential to families—not only by government definition but also psychologically. That's important because it means you've already established trust, which is the most vital part of any successful client-practice relationship.
With that in mind, this marketing guide outlines specific tactics for helping your brand stand out as a supportive community leader and a resource for accurate information and necessary services.
Tools to Leverage Right Now
Luckily, these are assets your hospital likely already has. Below we break down each tool and how to adjust how your hospital utilizes each one.
Website – Make sure your website is always current with any operational and procedural changes at your hospital and that they are front and center. The ability to make immediate edits is crucial, as is a coronavirus-specific page with clear instructions on things like curbside care, drop-off appointments, telemedicine. Include a pop-up banner linking to this page and install it as a top bar navigation option. Even if you are making a temporary or minor adjustment such as a change in business hours, it should be updated on this page as soon as possible.
Online Pharmacy – Your online pharmacy should already be prominent and easily accessible on your website. Now is also a great time to feature it on social media and in newsletters, with the primary message being to safely and conveniently skip the trip and have their pet's food, medications and other supplies delivered to their doorstep. This is a great opportunity to boost a recurring passive income channel, especially with auto-ship features.
Many hospitals are concerned that offering an online pharmacy will erode their margin. However recent studies have found a 10% increase in core medication revenue since the crisis began—which means more dollars to your practice as well as healthier pets. Another benefit is more compliant owners—medications stay refilled because of the ease of purchasing online. By making sure your clients have top-of-mind awareness of your online pharmacy, you also steer them away from other online retailers like Chewy.com or 1-800-Pet-Meds.
Outbound Client Communications – Remember: Your hospital, your clients, your message. Many practices are using canned content to send out generic newsletters or posting the same content on social media. Make sure the content you share is customized and specific to you, your protocols, your brand, and your hospital voice.
Speaking of newsletters, your practice should already send these out quarterly and for special announcements and events. We have seen an average increase of 10%-15% in open rates with COVID-19 messages. Leverage this to communicate safety precautions and changes your practice has made.
Social Media – Be sure to stay active on social media and if you don't have one already, designate a social media manager. Reiterate that you are open in order to help clients, to post important safety precaution updates, and positive encouraging news. Additional best practices include designing a custom Facebook banner to highlight changes and pinning important update posts to the top of your page, so they don't get lost in the scroll.
Local Listings – Your practice should have claimed and verified their local listings. Be sure to keep the information up to date with any closures or changes in business hours or services. Many listing platforms now include special areas for COVID-19 protocols your business has implemented.
Reminder Platforms + Client Communication Apps – Reminder platforms, specifically those that offer a mobile app, encourage client compliance and increase engagement. The reminder platform app offers a one-stop location for clients to instantly schedule appointments, access pet health records, request medication refills, and reach your team, all via their mobile device. Another benefit of reminder platforms is that they create an effective communication channel for important real-time notifications to clients. Many reminder platforms also offer built-in loyalty programs to engage clients and serve as an incentive for their compliance and for spending on services and pet products with your hospital.
Alternate Payment and Financing – As you know, nearly everyone has been impacted by the COVID-19 crisis. Many have been left in financial strain. Offering an alternative payment or financing option will create welcome options and accessibility to your clients and community during this time. Your practice likely already has a relationship with a financing/payment service like Scratchpay or CareCredit, so be sure to feature your preferred payment option on your website prominently and remind clients via newsletter and social media.
Protocols – Most veterinary hospitals have implemented increased safety procedures in an abundance of caution to protect staff, clients, patients, and the community. Below are some of the most common protocols we have seen:
You can access information on each method, as well as client communication materials on our regularly updated COVID-19 Resource site.
Adapting your digital marketing efforts
During a time of crisis your initial reaction may be to pause all ads. However, it's important to keep your digital marketing channels active—but with some adjustments.
Google Ads – If your hospital is open, you should continue—or start—Google Ads. We have seen an increase in impressions and a decrease in cost per conversion in the last two months of reporting. New client offers are performing particularly well as pet adoption has increased significantly with families being homebound.
Paid Digital Marketing – You will want to remind the community that you are still open, and shift focus to those essential services you are able to provide. You'll want to pause ads for those services you are not currently able to offer, such as boarding or grooming. Instead, create ads promoting the fact that you are still open and for services that still apply to your clients, such as:
Urgent/Emergency care
Parasite prevention—more walks mean more exposure to fleas, ticks, and mosquitoes
New puppy and kitten exams and vaccinations. A boom of new pet owners looking for care means offering a Free First Exam (overall but most certainly on newly adopted pets) is a great way to get people in and mitigate new client loss.
Be aware that Google and Facebook have regulations on what ads will be approved. These are examples of topics that are appropriate to promote, but may be disapproved for advertising on digital platforms:
Online pharmacy and telemedicine will likely be declined by Google due to being pharmaceutical- related.
A boosted post discussing your hospital's safety protocols due to shelter in place orders mentioning your local government will likely be disapproved by Facebook due to being too closely related to spreading or reporting of news.
Tools your hospital may not currently have—but should consider
Successful hospitals are taking proactive steps and considering the value of the following tools to help their practices stay accessible and of service to their clients. Those tools include:
Telemedicine – This technology has been a key player in creating accessibility while your clients are sheltering in place. Telemedicine augments in-person care, rather than being a replacement for it. These platforms generally require payment from clients (via credit card on the app) prior to utilizing the time of your veterinarians and staff, so you don't need to worry about collecting compensation. They are also quite straightforward to promote: just set up a page on your website with buttons directing clients to download the apps, share the links on social media, and in a newsletter. Also—be sure to remind your clients that downloading the app is free!
Two-Way Texting – Many reminder platforms are now providing two-way texting between your hospital and clients, and for a limited time both PetDesk and VitusVet are offering the tool for free. Two-way texting is an excellent tool to utilize in order to limit the call volume your hospital receives, and to reach a population that is increasingly gravitating to text rather than phone calls. We advise that you sign with a texting service that enables texting of photos, videos, documents, and website links. It should also have the functionality to copy and paste texts into a patient record in your PMS and to use your hospital landline as the texting phone number.
Online Payments – Earlier we discussed offering alternate payment and financing options. In the social distancing world, it is vital to accept payments without hand-to-hand passage of cash or credit cards. Your best bet is to ask your PMS/Point of Sales vendor if they have plans for online check-out on the horizon. While this functionality is on the minds of many, we caution hospitals to not roll out an online payment option unless it is completely secure and trusted, and ideally connects to the client invoice in your PMS.
Expense Tool – Taking a holistic view of your hospital finances is vital and will help you increase margins as much as possible during this time. To enable you to do just that, iVET360 Analytics is providing Pulse—our custom expense tool—free of charge to all client hospitals. You can find out more and request it today at this link.
Tactful messaging
While we stress that the brand you've built for your practice should have a consistent voice, it is paramount that during this time any marketing efforts acknowledge, and be extremely sensitive to, the unprecedented situation we face. After a piece is created, think it through and ask yourself "Is this tone deaf? Or will this message respectfully reach and resonate with the most vulnerable members of my community?".
The other side of tactful messaging to remember is the danger of overestimating urgency. For example: if your hospital has had a drastic change in protocols such as a closure due to inadequate staffing or exposure to the virus, urgent wording in a newsletter headline or social media post is warranted. If you are simply posting several times a week to remind clients that you are open and operating, there is no need to use urgent language.
It can be done
At iVET360, we are already seeing how the practices utilizing the tools and the proactive marketing approach as outlined above have been able to mitigate losses in revenue and drops in new client growth. With our help, our clients have kept a +1.4% new client growth year over year, compared to a decline of -6.6% in new client growth for the industry.
Bottom line? This time in our history is anything but typical and alerting your clients to changes and important information about your hospital's services will be key. Fortunately, most pet owners already see their veterinarians as an important part of their family's health and life—and that gives you a head start when it comes to weathering the coronavirus hurricane.