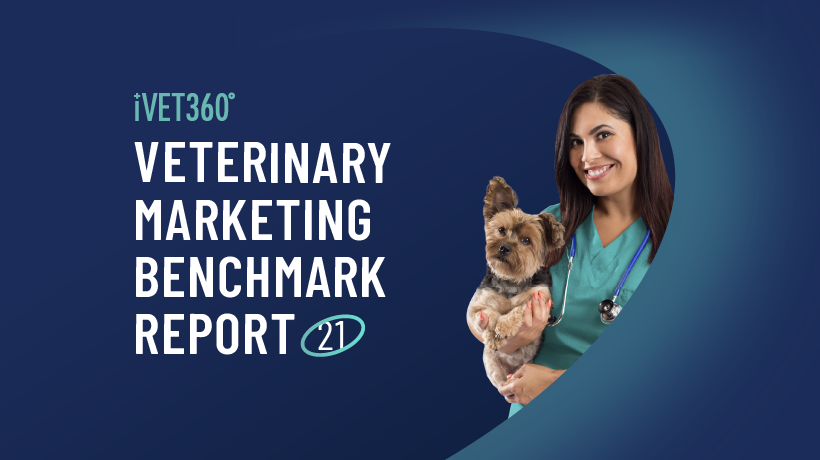 iVET360's Releases 2021 Veterinary Marketing Benchmark Report
The free report reveals a serious downshift in marketing
Portland, OR—For the fifth consecutive year, iVET360 has created and published the Veterinary Marketing Benchmark Report (VMBR)—the largest, most comprehensive study of the digital marketing practices of veterinary hospitals around the country. It is now available for all veterinary practices to download for free.
The 2021 VMBR surveyed 1000 accredited veterinary hospitals in all 50 states and analyzed 52,000 data points along with year-over-year comparisons. It covers crucial benchmarks for websites, including security, site speed, ADA accessibility, Google Analytics, and more.
This year's report also revealed a significant slowdown in veterinary marketing. While not unexpected due to the increase in demand and staffing issues the industry is facing, some takeaways are startling:
A 30% decrease in the number of hospitals with an SEO-optimized website
65.2% of practices haven't claimed their listing on Nextdoor, the fastest growing social media site
Only 9.3% of hospitals are using Google Ads, which is the #1 driver of new client growth

"As we again analyzed the industry's digital landscape, it became clear that hospitals nationwide stopped paying attention to even the basics of website management and marketing," says Justin Vandeberghe, iVET360's Managing Director of Creative Services. "We're concerned that given the increase in corporatization of the industry, independent practices won't be able to compete when the pendulum swings back."
The format of this year's report has also changed to make it easier and faster to read, so practice owners and leaders can obtain more information at a glance.
iVET360 has published this report annually since 2017 and it remains a bias-free, in-depth look at digital marketing best practices. In addition to the complimentary report download, iVET360 also offers a free custom analysis of your hospital for the asking, so that you can see how your practice's marketing efforts measure up to what's happening in the industry.
---
Established in 2013 and headquartered in Portland, Oregon, iVET360 is a practice management services company that provides critical support to veterinary hospitals across the nation. Their specialists educate and assist veterinary practices with marketing, staff development, and analytics to ensure the complete implementation of proven business strategies into the daily activities of the hospital.