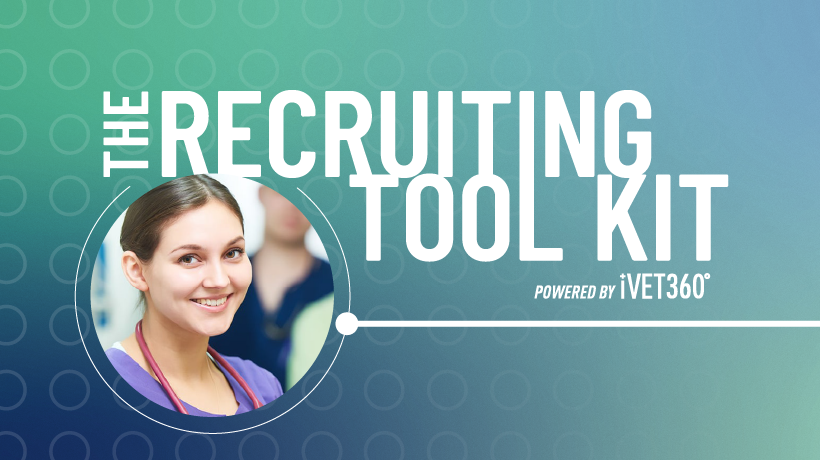 iVET360 Releases "Recruiting Tool Kit"
iVET360 offers free recruiting and hiring help for veterinary hospitals
Portland, OR—iVET360 has released the Recruiting Tool Kit, a series of articles, templates, and how-to guides specifically designed for veterinary practices. The tool kit was created by iVET360's experienced Human Resources & Training team and is free to all veterinary practices.
The idea for this resource came as a result of the company's awareness that for some time recruiting and hiring has been a huge problem for the industry. This fact was confirmed by the results of iVET360's Practice Manager Report released in September. The report surveyed 683 practices in 49 states and recruitment was cited overwhelmingly as the number one challenge facing hospitals.
The American Veterinary Medical Association reports that currently there are 18 open positions for every veterinarian seeking a job, and six positions open for every technician or assistant. Given this and the high burnout rate of veterinary employees during the ongoing pandemic, it's no surprise there is a huge staffing crunch. iVET360 wanted to help in whatever way they could, according to Heather Romano, Managing Director of HR & Training for iVET360.
"We can't wave a magic wand and increase vet school enrollments or inspire more people to become vet techs," she explains. "But what we can do is offer our expertise to an industry that frankly, we depend on. That's our motivation behind creating this site."
In addition, the iVET360 Recruiting Tool Kit also contains an exclusive, easy-to-use Job Ad Creation Tool, which can make writing a job ad that attracts candidates in this tight market much simpler and quicker for hiring and practice managers.

Practices are invited to bookmark or download iVET360's Recruiting Tool Kit free of charge so they can refer to it during every stage of recruitment and hiring. It can also help managers navigate the complex legal issues around interviewing candidates and assist them in developing a formal recruitment and hiring process.
---
Established in 2013 and headquartered in Portland, Oregon, iVET360 is a practice management services company that provides critical support to veterinary hospitals across the nation. Their specialists educate and assist veterinary practices with marketing, staff development, and analytics to ensure the complete implementation of proven business strategies into the daily activities of the hospital.