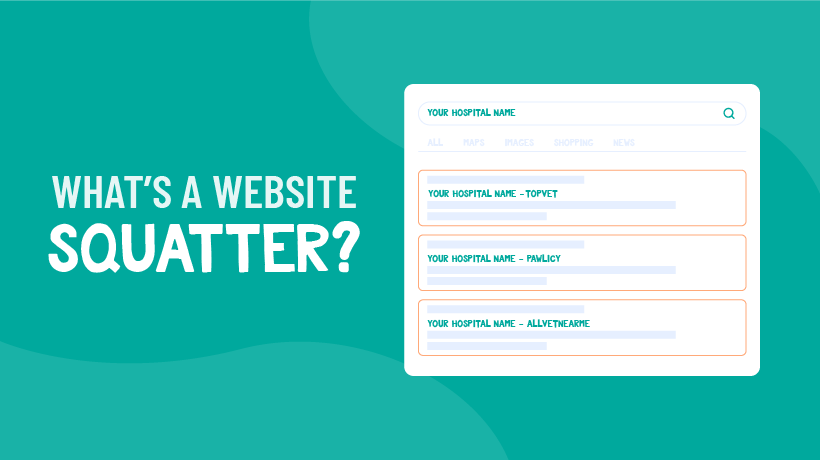 We Reviewed 22,127 Veterinary Hospital Websites. Here's What We Learned.
First things first: We love data. It's in our company DNA and it directs our every business decision. And as we prepared for our annual Veterinary Marketing Benchmark Report we noticed a few interesting trends happening in our industry—but one major trend we had to share right away.
After surveying 22,127 websites we found that a staggering 7.75% (1712) of practices didn't have one…in 2023. How is this even possible? But it gets slightly worse.
Website Squatters: what they are and why they do it.
If you're part of the 7.75% mentioned above and haven't claimed your Google Business Profile (GBP, formerly known as Google My Business), website squatters are likely making a living off your practice. They do it by redirecting your clients and potential clients to their advertisers using your GBP listing, potential URL, or just your name and some good SEO. They also successfully target businesses with websites that haven't claimed their GBP listing. Basically, these squatters will build a bare-bones site, local listing, or social media profile from an unattractive template and scrape basic information about your practice from wherever they can get it. When clients search for a vet by location, it looks something like this: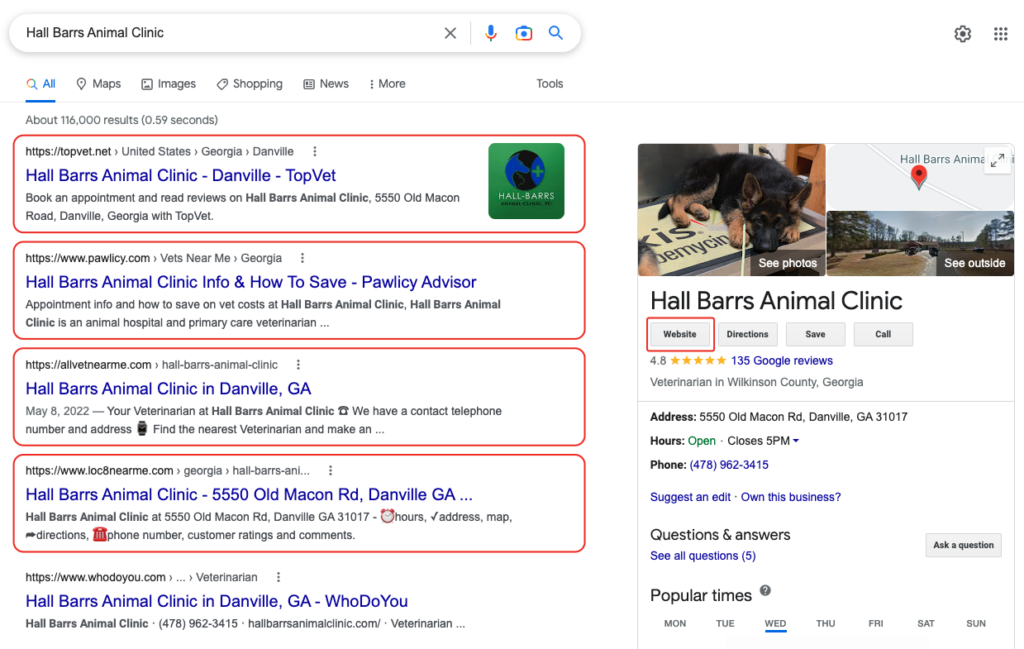 See all those circled listings for the same vet in Danville, GA? They each have different URLs from entities like "topvet", "allvetnearme" and "pawlicy", which are squatter companies, often using artificial intelligence (AI) to load up these minimalist sites with your SEO, basic info, and advertising. They often like to refer to themselves as "online business directories". However, they only exist for one reason—to make money from those ads.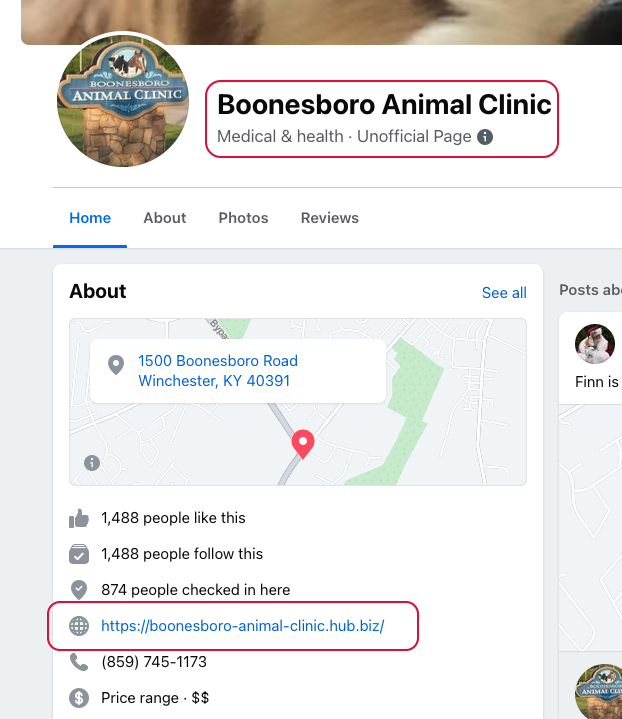 The dangers here are that the information on these hijacked pages may not be accurate, and also that clients and potential clients will click away and not ever contact your practice because they got distracted buying a Snuggie. And frankly, it's frustrating that someone else is making money off your digital identity, right? It's like someone you don't know putting a billboard on your lawn while you're on vacation.
Oh by the way: these squatters also do their business on unclaimed Facebook pages, too. Yes, it's unethical—but unfortunately, it's also legal.
---
DIY is dangersome, but at least it's a start.
Our data shows that DIY websites make up about 16% of the market and that's on the rise. We get it—they're cheap, or maybe even free as a perk from your reminder platform. And the drag-and-drop technology makes it look easy to put together a decent-looking site without the expense of hiring a third party or professional developer.
The problem is those website builders are only as good as the person doing the building. While we don't want to insult anyone who thinks of themselves as a tech wizard, it's likely that both your time and expertise have limits. If your website doesn't have proper tracking, SEO, ADA compliance, and regular maintenance, building your own is not going to be the best solution.
Still, it's better than nothing at all, especially if you've also claimed your GBP listing. So, if we haven't been able to talk you out of it, the least we can do is suggest some good options if you're determined to go the DIY route:
So what's the big deal? I already have more clients than I can handle.
We hear that a lot these days. But as we pointed out in our 2021 Veterinary Marketing Benchmark Report, marketing isn't just about attracting new clients. It's also about:
branding your practice to bolster the confidence of increasingly tech-savvy pet owners
promoting compliance among your existing clients
maintaining your visibility for potential buyers
attracting potential hires
If nothing else, that last one should motivate you to make sure your online presence is professional and competitive. As a smaller, independent practice, you may think word-of-mouth is going to be enough to sustain you; our research shows that's not the case. Without a competent website and maintenance of your online listings and social media, you're basically invisible in today's digital, mobile marketplace…except to an "online business directory" looking to sell Roombas for Amazon.