Pet People
Skills
IT'S NOT JUST ABOUT TREATING PETS. YOU HAVE TO TAKE CARE OF THE HUMAN ANIMALS, TOO.
Even if you do everything right when it comes to treating a pet, if a client has a bad customer service experience, that will likely be the end of their relationship with you. Client care determines whether they will return, what they tell their friends, family, and social media. Unfortunately, many practices don't give their team the tools they need to ensure that clients have an exceptional experience—and without it, complaints increase while reputation and revenue decline.
What We Do


Overview
CLIENT EXPERIENCE
We firmly believe that the client experience at your practice should leave your clients in awe, every single time. We will help analyze your practice's most common compliments, complaints, and phone calls to fine tune your team's ability to offer the best possible service to your clients. Our highly experienced, helpful Human Resources & Team Managers will then provide custom training which includes how to successfully interact with the toughest clients, maximizing treatment plan opportunities, and improving phone skills.
We get that every practice is different, with unique challenges and clientele. We'll provide options to ensure that your clients get your best care—not some corporate version of it. Our HR & Team Managers also understand that maintaining the highest level of client experience is an ongoing challenge, so we don't just come in, hand you a binder, and walk away. We'll be there every step of the way and in the future for recurring training, troubleshooting, and when extraordinary circumstances make business as usual impossible (we're looking at you, COVID-19).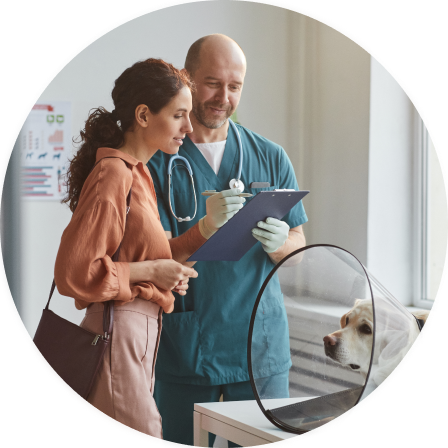 The
Difference